The Canada-Ukraine Foundation's (CUF) Health Advisory Team (HAT) aims to be the partner of choice for Ukrainian healthcare institutions, NGOs, and various levels of government health ministries to build capability and capacity within Ukrainian healthcare systems and communities. Through CUF-supported and sponsored programs and projects, we promote health by enabling organizations, healthcare practitioners and healthcare promotion advocates to improve the healthcare in the communities that they serve.
The CUF Health Advisory Team was responsible for supporting and implementing a number of critical health initiatives since 2014. To date, CUF, under Dr. Antonyshyn's leadership, has completed 7 medical missions in 4 major cities of Ukraine. The surgical teams were volunteer specialists from across Canada, and included world renowned trauma and reconstructive surgeons, anesthesiologists, and nurses. The main purpose of these missions was to provide consultations and surgical reconstructions to patients with complex traumatic defects who would otherwise not receive treatment including military personnel and civilians. Thousands of individuals and their families have been directly assisted through our missions. Most recently, we have launched both direct and remote surgical training through the Sunnybrook Ukraine Surgical Education Initiative, in partnership with Sunnybrook Health Science Centre, Canada's leading Trauma Center.
During 7 previous Canada-Ukraine Foundation-sponsored missions to Ukraine, we have developed a remarkably effective model for mobilizing a self-sufficient comprehensive team to deliver sophisticated surgical care to war casualties.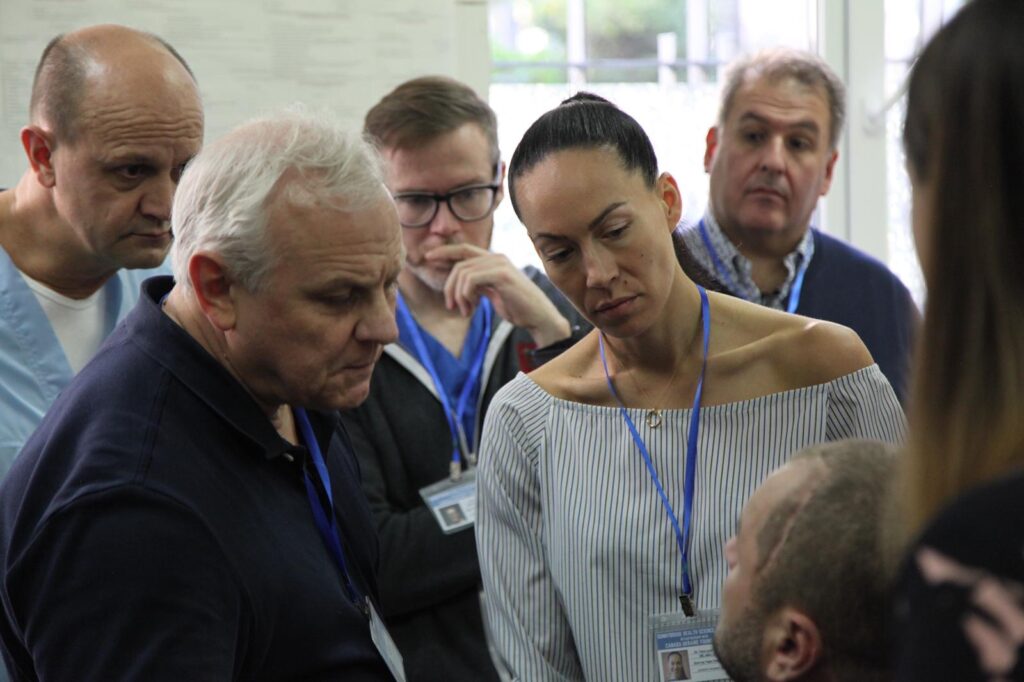 The invasion of Ukraine has targeted military installations, political and geographic objectives, while indiscriminately bombing civilian buildings, evacuation corridors, schools and even hospitals. Both military and civilian casualties are mounting rapidly.
We have consulted our surgery colleagues, and the Ministry of Health in Ukraine and anticipate an unprecedented and prolonged need for medical assistance, particularly in addressing post traumatic defects and deformities.
This is why we are lunching the Canada Ukraine Surgical Aid Program – CUSAP.
Your support of this program will allow:
Ongoing medical support to thousands of Ukrainians who have become casualties of the war
Collaboration, educational training and development of specialized surgeons in Ukraine and abroad
Our preliminary goal:
Run ongoing medical aid programs (every 2 months) to provide surgical care to war casualties with extended scope and range of surgical services provided by intensivists, orthopaedic, head and neck, general, vascular, oculoplastic and burn surgeons, in addition to plastic, hand, craniofacial and neurosurgeons and paediatrics.
We have organized and fully equipped teams of volunteer Canadian nurses, anesthesiologists and surgeon specialists. The teams will be entirely self-sufficient, bringing all required surgical hardware, implant materials, medications, and disposable supplies.
First medical team (consisting of 30 volunteer medical professionals), headed by Dr. Oleh Antonyshyn, will be deploying to Czeladz, Poland in September 2022 to run a surgical and education aid mission at Powiatowy Zespół Zakładów Opieki Zdrowotnej.