The Canada-Ukraine Foundation ("CUF") went through a changing of "the Diplomatic Guard" at its recent Board of Directors meeting on January 30th, 2021.
Canada's former Ambassador to Ukraine Derek Fraser – one of CUF's longest serving Board members – where he served for over 13 ½ years – retired from active service, and was replaced by Roman Waschuk, Canada's most recent former Ambassador.
The Board of CUF heartily thanked Ambassador Fraser for his service to Canada and to CUF, and warmly welcomed Ambassador Waschuk to the Board.
Derek Fraser served as Canada's Ambassador to Ukraine from 1998 to 2001, during the latter part of the Kuchma Presidency and Victor Yuschenko's Prime Ministership. He also served as Canada's Ambassador to Greece and Budapest during the years of the Fall of the Soviet Union, and had previously served in Saigon, Bonn, Moscow, and Brussels – all major postings during critical times. He returned to the Ministry of Foreign Affairs after his Kyiv posting, and was considered as one of the Deans of the Diplomatic Corps. He retired from the service to move to Victoria, B.C., became Adjunct Professor at the Centre for Global Studies at the University of Victoria, and shortly thereafter in 2007 joined the CUF Board.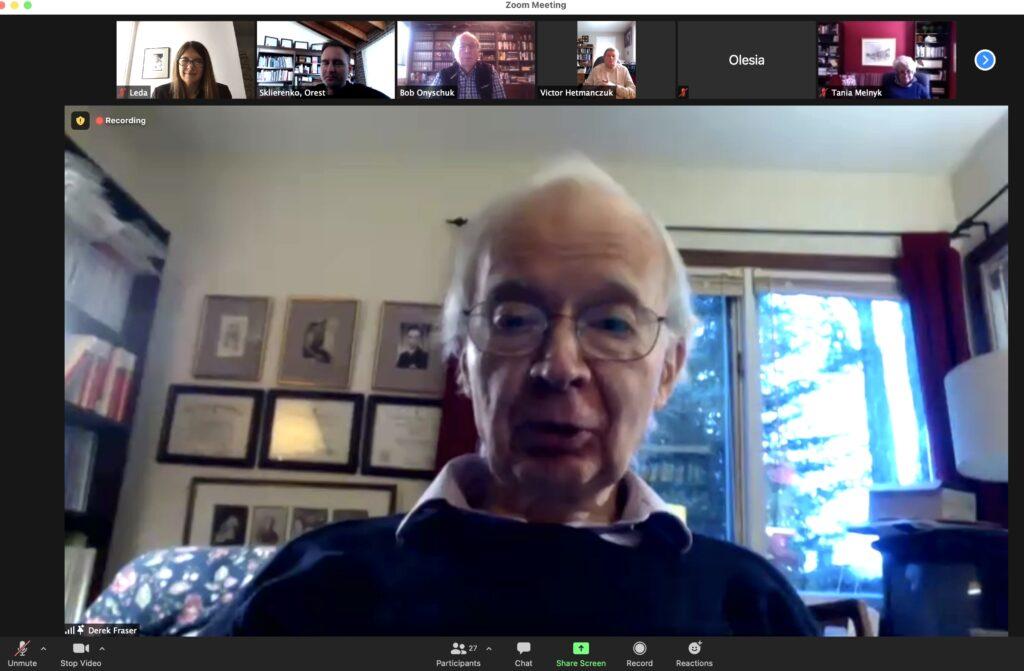 In thanking Derek for his years of service to CUF, the Chair of the Board, Bohdan Onyschuk, said: "The Ambassador gave us great advice for almost 14 years on civil society, politics, who was who in Ukraine, and what directions we should go. But Derek also went well beyond that expected of a Board member, when in 2012 he agreed to take on the role of Head of Mission and Chief Observer of the Long-Term Observer (LTO) Mission that CUF fielded for the 2012 Parliamentary Elections -the most critical Ukraine election during President Yanukovych's term in office as President from 2010 to 2014. CUF fielded the first LTO to a Ukrainian election by any NGO (other than that of the OSCE) from July 5, 2012 to the October 28 elections. His reports on the gerrymandering of electoral boundaries, vote buying, pressure on journalists and attack on the TVI news channel and its owner, were all important findings that lead to only one conclusion on that election."
Derek Fraser will continue to serve on the CUF/International Foundation Fundraising Committee for the new National Holodomor Museum being built in Kyiv, for which CUF is the North American and European fundraising partner of the International Foundation for the Museum in Kyiv.
The CUF Board then turned to welcoming former Ambassador Roman Waschuk to its Board.
Ambassador Waschuk is very well known for his achievements in diplomatic circles, particularly for his double tour of duty during trying times as Canada's Ambassador to Ukraine from 2014 to 2019, and the Russian invasion of Crimea and the Donbass.
He previously served as Ambassador to Serbia, with concurrent accreditation to Macedonia and Montenegro in the Balkans. Before that he had served as second secretary for politics in Moscow, as minister-counsellor in Berlin, and senior advisor in Kyiv in counsellor positions going back to 1994-98. In Ottawa, between postings, he held positions of deputy director of the EU Division, deputy director of the Policy Planning Division, director of the Global Partnership for Biological and Chemical Weapons Non-proliferation, and director of the Stabilization and Reconstruction Program Division.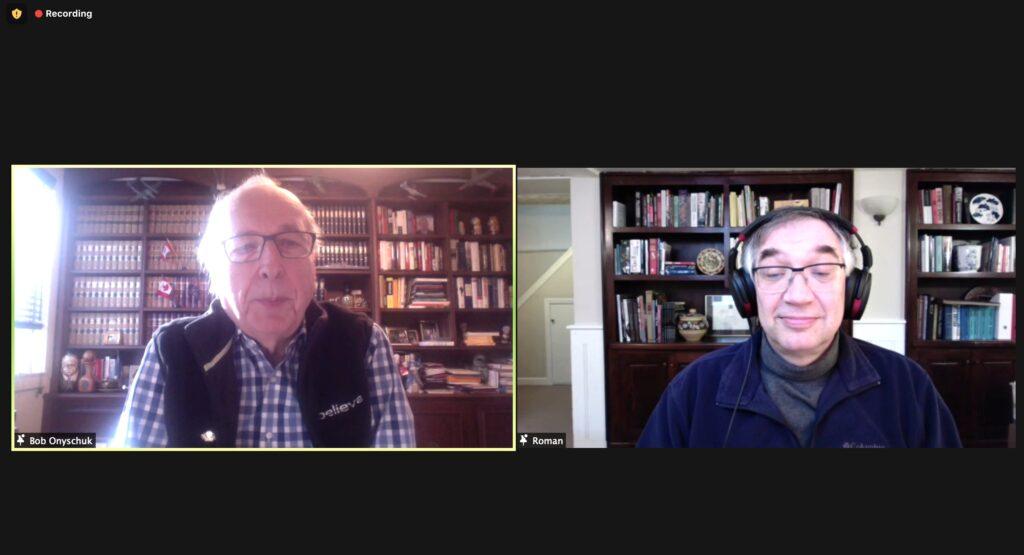 Derek Fraser commented on Roman Waschuk's achievements, saying: "Roman was identified as one of the brightest people dealing with Eastern Europe after only one month of service as a very young man in the Canadian embassy in Moscow in the 1980's." As Director of Relations in Eastern Europe and in subsequent postings Derek followed Roman Waschuk's career closely. He opined that he was "very confident Roman will be able to provide a lot of diplomatic background relating to CUF".
Roman Waschuk will be a terrific replacement to Derek Fraser and will serve alongside CUF's other Canadian Ambassador to Ukraine, Andrew Robinson, who served in Kyiv during the Orange Revolution. Ambassador Waschuk's knowledge of the current situation on the ground in Ukraine, in economics, politics, civil society and rule of law will be invaluable to CUF in its strategic planning and delivery of projects in Ukraine for its development as a strong democratic post-Soviet nation. He will also join the CUF/International Foundation Fundraising Committee for the new National Holodomor Museum project in Kyiv.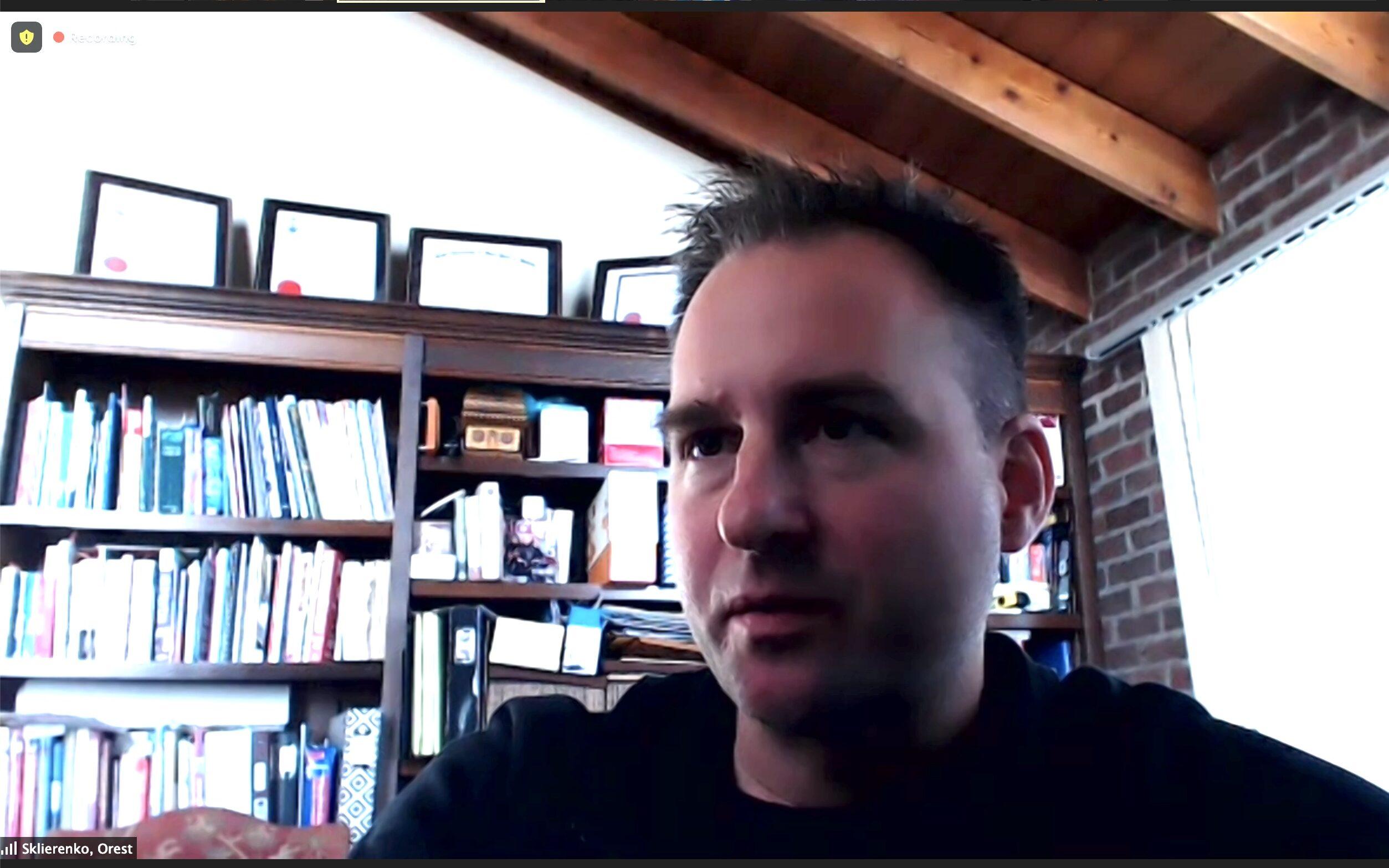 The CEO of CUF, Orest Sklierenko, said: "Ambassador Fraser – we are truly grateful for your years of service to the people of Canada, the people of Ukraine and as a board member of the Canada-Ukraine Foundation. Your advice has helped CUF deliver on its mandate of providing assistance projects to Ukraine for over 13.5 years. Ambassador Waschuk, we are equally grateful to you for your service and we look forward to learning from your experiences, insights, and knowledge. Today's transition between the former ambassadors on CUF's Board of Directors demonstrates the importance of institutional memory and thoughtful succession planning. The continued commitment from both Ambassador Waschuk and Ambassador Robinson underlines the importance of the role CUF will continue to play in providing assistance to Ukraine in the areas of Healthcare, Education and Civil Society for many years to come."