HNAT Cross Canada Spring Summer Tour
On March 31st 2019, the Holodomor National Awareness Tour (HNAT) began its coast to coast travels across Canada, with a visit to St. Nicholas Church in Victoria, British Columbia and the BC Legislature on April 1st. We were welcomed to the Legislative Assembly by the Hon. Bruce Ralston: "Today in the House are a number of Canadians of Ukrainian origin who are here to launch a Canada-wide initiative to raise the knowledge of and awareness of the Holodomor. It is the death by starvation, literally translated from Ukrainian, of six million to ten million Ukrainians — the numbers vary because it was so horrible an experience, and records were very remote — in the winter of 1932 and 1933, unknown and kept secret in Stalin's Russia, actually, until more or less the Iron Curtain fell in 1989.
The group here includes the executive director of the Canada-Ukraine Foundation [Holodomor National Awareness Tour], Roma Dzerowicz; the Ukrainian Canadian Congress Victoria branch chair, Robert Herchak; and fellow board members Anna Visnevka, Motria Koropecki and Andrei Fabrikov. Would the House please make all of them welcome."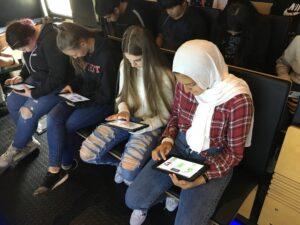 The Holodomor Mobile Classroom (HMC) is a fully self contained, wheel chair accessible RV converted into a state-of-the-art interactive audio-visual classroom. It features a 24 foot video wall made up of twelve 4k television screens spanning the length of the interior with seating up to 31 people.
A major part of the Holodomor National Awareness Tour's mandate is to spread awareness about the Holodomor through our interactive lessons which complement high-school curricula, while teaching students about diversity, inclusiveness, tolerance and human rights, instilling upon them the need to raise their voices out of silence.
During our Cross-Canada tour we visited 44 schools and presented 156 interactive lessons. In BC we visited schools in Victoria, Vancouver, Chilliwack; in Alberta: Medicine Hat, Bow Island, Ponoka, Edmonton, Bashaw, Sherwood Park; in Saskatchewan: Saskatoon, Kenaston, Quill Lake, Canora, Yorkton, Strasbourg, Middle Lake, Imperial; in Manitoba: Winnipeg; in Ontario: Thunder Bay, Sault Ste Marie, Sudbury, Cambridge and Toronto; and finally Halifax and Dartmouth in Nova Scotia.
HOLODOMOR MOBILE CLASSROOM
HNAT – From Coast to Coast