As of June 11th, "across the Ukrainian-controlled areas of Khersonska oblast and in Mykolaivska oblast, evacuations, access to drinking water, food and hygiene items are the main pressing needs of thousands of families impacted by the disaster" [destruction of Kakhovka Dam]. (OCHA, June 11, 2023). At least 2,700 people are displaced, including 190 children, and over 4,300 houses remain flooded.
On June 7th, a day after Kakhovka Dam was destroyed by Russian forces, you received a note from the Canada-Ukraine Foundation that through the CUF-UCC Ukraine Humanitarian Appeal fund we were directing immediate deployment of food boxes to Mykolaiv and Odesa, the cities receiving evacuees from flooded Kherson, and further assessing needs on the ground with our partners in Ukraine.
On Sunday, June 11th, 2,560 food boxes were delivered directly to Kherson – volunteers from the charitable organization "Angel of Life" trucked and distributed the food boxes to those in dire need, despite the continuous shelling of Kherson by Russian forces. Local residents expressed their sincere gratitude for this timely and much-needed aid.
On June 12th and 13th, over 3,000 food boxes were delivered by our partner, GlobalMedic, to Odesa and Mykolaiv for immediate distribution by local NGOs to the evacuees from Kherson.
This type of immediate and robust response would not be possible without your unwavering support.
Please donate today at cufoundation.ca to enable us to continue delivering timely and effective humanitarian aid to the people of Ukraine affected by Russia's genocidal war of destruction.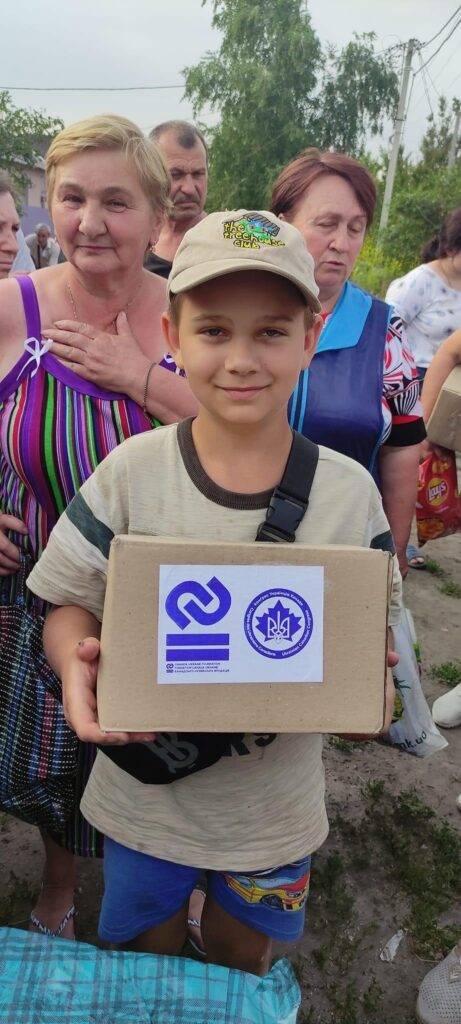 Background
Ukraine Humanitarian Appeal (UHA) was launched in 2022 by the Ukrainian Canadian Congress (UCC) and the Canada-Ukraine Foundation (CUF) to coordinate the provision of humanitarian assistance quickly and efficiently to civilians impacted by Russia's full-scale invasion of Ukraine, including relief for displaced persons in Europe and Canada.
To date, we have delivered over $35 million in food, medicine, emergency shelter, mental health support, surgical aid, firefighting gear, individual first aid kits, ambulances, generators, and many more types of aid.
Please click here to read further about our humanitarian relief efforts since the full-scale invasion on February 24th, 2022.
Canada-Ukraine Foundation (CUF) was established in 1995 to coordinate, develop, organize and implement aid projects created by Canadians and directed to Ukraine. Read more about CUF's history on Wikipedia.