Project Liubov-Love (in short form PLL) was created in 2001 as a Western Canadian community based project to assist impoverished children and youth in Ukraine.
PLL especially assists "the poorest of the poor" in orphanages, homes for street kids, schools and school residences ("internaty") and rehabilitation and medical centers. The age of the children ranges from newborns to 16 years. Some 25 different centres in various oblasts of Ukraine are the recipients of the assistance. PLL is affiliated with the CANADA UKRAINE FOUNDATION, INC (CUF), the premier Ukrainian Canadian agency that facilitates numerous creative projects from Canada to Ukraine.
PLL is based out of Winnipeg with a Board of eight members and is coordinated by Prof. Roman Yereniuk, a well known educator at the University of Manitoba and St. Andrew's College. He has travelled extensively to Ukraine on educational, civil society, election monitoring and humanitarian projects. Roman has visited all of the institutions in Ukraine that receive aid and assistance from PLL.  PLL delivers much of its aid to the various institutions with parcels of clothing and footwear, educational supplies, hobby and art projects and sports equipment. In the last year, PLL has added a centre for the displaced youth and parents from south-eastern Ukraine, now living in Lviv. For the medical institutions, PLL subsidizes medicine, medical supplies and equipment in Chernivtsi, Kyiv, Uzhorod.  
ANNUAL REPORT July 1, 2013 – June 30, 2014 – Our Thirteenth Year Since Inception (2001)
Donations and Income:
Collected 28  lists of donations of some 308 donors (individuals, families, churches, organizations and small businesses) for a total of $31,169 (the donors included some 37 organizations and churches),
Received in-kind gifts (mostly gently used clothing, school, sport and hobby supplies) and valued at $1050,
Received 180 pieces of newly knitted scarves, mitts and hats from two donors.
Expenditures and Assistance Provided to Children and Youth inUkraine:
Shipped to 25 orphanages, homes for street kids, public and residential schools ("internaty") and medical centres some 113 parcels weighing 1470 kilos
Shipped another 12 parcels (135 kilos) of gently used clothing and other supplies to Ukraine (all donated and sent by local community organizations),
Purchased some $4300 worth of clothing and $1550 worth of footwear,
Provided some $5100 worth of school supplies, stationery, hobby and art supplies,
Provided books valued at $1600 (including a major shipment of" MY ICON BOOK" published by the UWAC –National Executive),
Provided recreational toys and sport supplies
Provided for medical aid and treatments to the Chernivtsi NGO – "Podaryi Dytyni Zhyttia – Grant a Child Life" (assistance was provided for 14 children with cancer and leukemia)
Provided bursaries for students in Ukraine.
A special Thank you – "Podiaka "is extended to all the donors of funds as well as those that supplied donations-in-kind. A fundraiser for PLL was held in Vancouver in Oct. 2014 where the power point story of PLL was presented. We also honoured some 35 major donors from British Columbia, in the various categories, and further funds for PLL were received (this event was organized by Zennie Cherak).  A special thanks is extended to Nettie Chernitenski in Saskatoon and Zennie Cherak in Vancouver, who have accomplished major clothing collections in these two cities and sent out parcels under our auspices. Another "podiaka" is extended to the PLL Advisory Committee of nine people who have contributed greatly to the success of PLL and include: Nathan Martindale, Donna Kowalishen, Allen Hohol, Cec Kachkowski, Elaine Maksymiuk, Zennie Cherak, Victor Corroll and Karen Inskip.
Dr. Roman Yereniuk, Co-ordinator of PLL
This well-established, operated out of Winnipeg, supports a series of orphanages in Ukraine by providing needed clothing and basic supplies.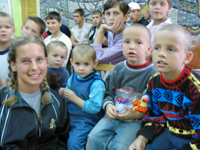 Orphans supported by Project Liubov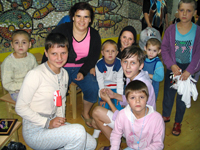 Liubov Orphans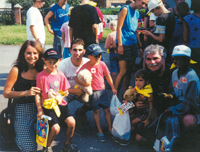 Project Liubov