People rallied in Winnipeg in solidarity with Ukraine on Friday, marking the one-year anniversary of Russia's invasion. (Anne-Louise Michel/SRC)
On the one-year anniversary of Russia's invasion of Ukraine, Manitobans gathered in Winnipeg and Brandon to show support for Ukrainians who are still fighting for their lives.
In Winnipeg, hundreds of supporters gathered at the Canadian Museum for Human Rights to call on all levels of government to increase their support for Ukrainians fighting for their land against Russian invaders.
"They're targeting civilian infrastructure, targeting things that make it difficult for civilians to live…. We've seen the images. Whatever Ukraine needs to push these invaders out," said Demyan Hyworon, with the Ukrainian Canadian Congress's Manitoba chapter.
WATCH | Hundreds show solidarity with Ukraine in Winnipeg:
People gathered outside the Canadian Museum for Human Rights Friday evening to mark one year since the start of Russia's full-scale invasion of Ukraine.
On Friday, Canada announced it would be sending four additional Leopard 2 tanks, bringing the country's total contribution of heavy armour to eight tanks.
The supporters in Winnipeg were among many across Canada gathering on the anniversary to pay homage to Ukrainians who have died in the fighting.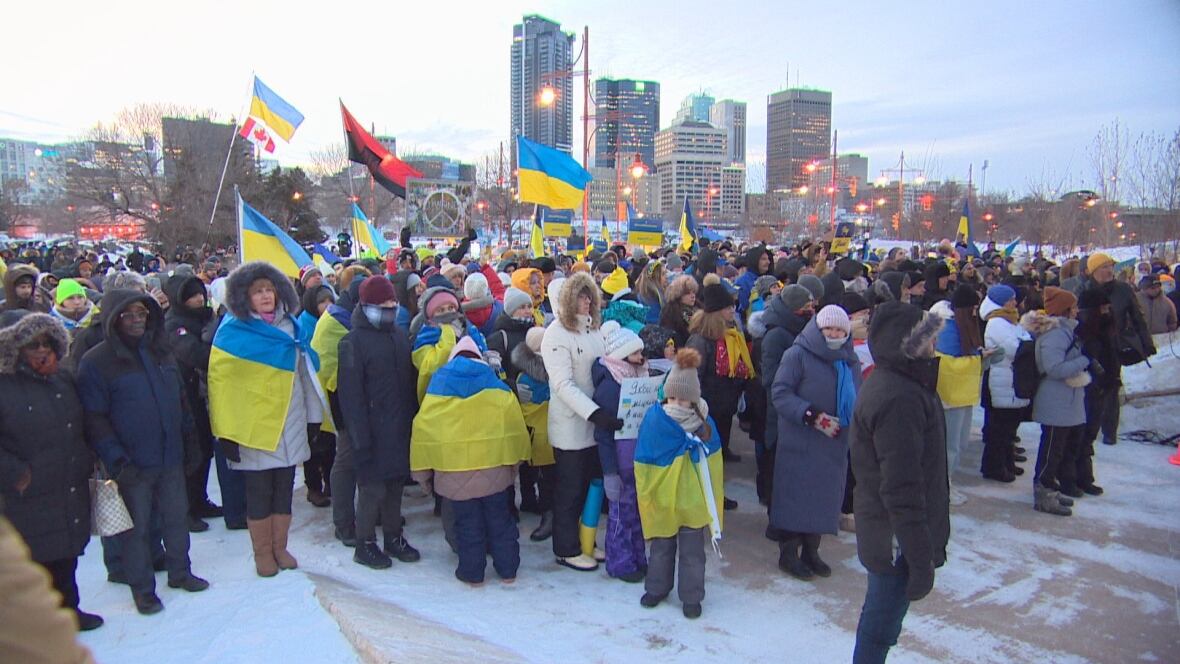 According to latest UN human rights office data, at least 8,000 non-combatants have been confirmed killed, with nearly 13,300 injured, since the Russian invasion a year ago. The true number of dead and injured is likely higher, the UN says.
In addition, nearly 18 million people are in dire need of humanitarian assistance, with 14 million people displaced from their homes, the UN says.
Hyworon said it's important that this war stay top of mind for Canadians.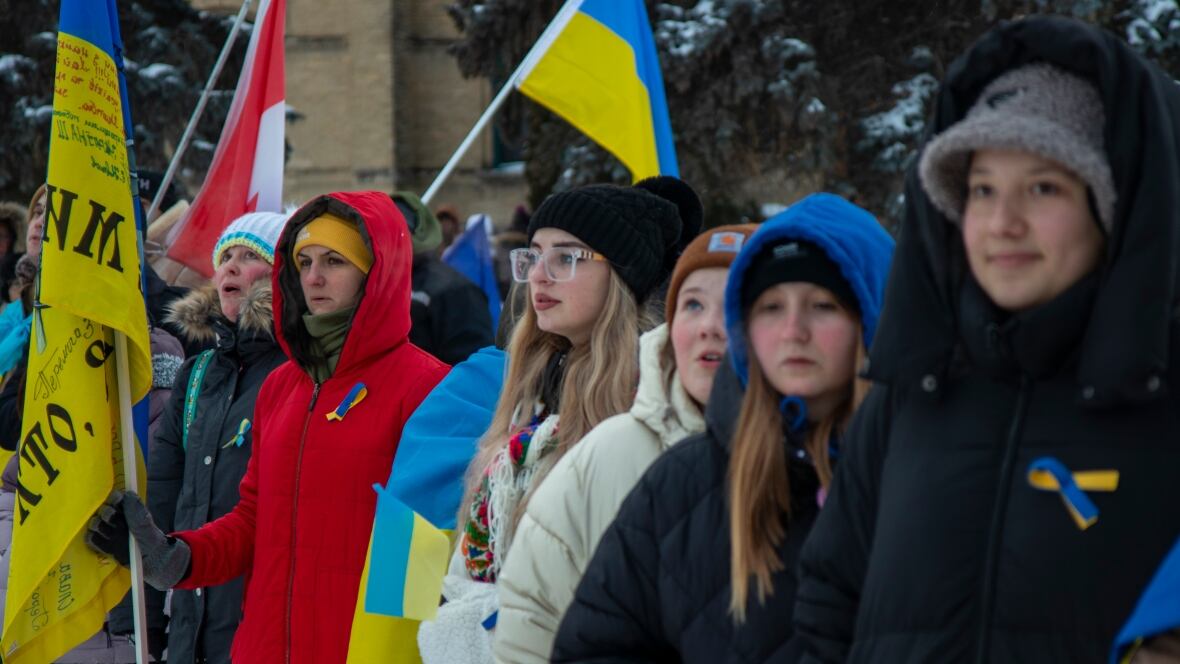 "Don't be apathetic on this. We need to keep our attention on it, our focus on it. We can't just move on," he said.
"This isn't going to end in a week or two. They have their claws in Ukraine and need to be pushed out."
Ostap Skrypnyk, the chief executive officer of the Canada-Ukraine Foundation, said the last 365 days have been hard.
"Every day, we watch on the news as these rockets come over in huge numbers, slamming into hospitals, into civilian apartment buildings, et cetera. It's heartbreaking every day," he said.
"On the other hand we have this pride, this happiness that Ukraine is being able to defend itself vigorously."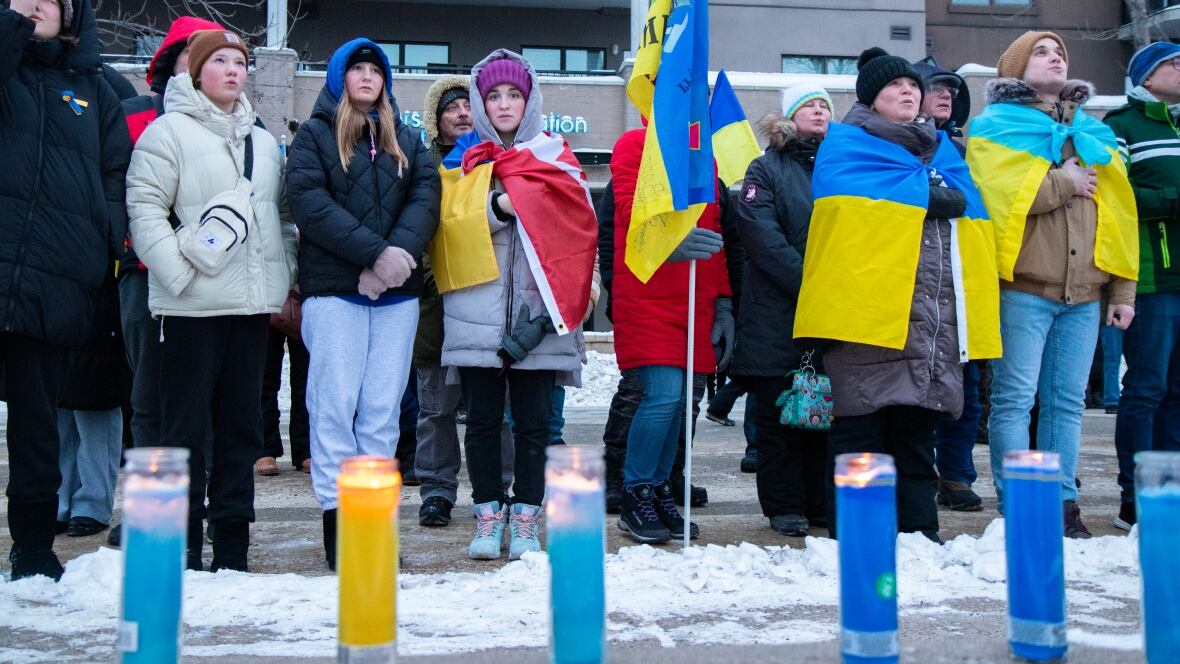 He said he's grateful to Manitobans for their support of Ukrainians on the front lines, as well as those who are newcomers seeking peace.
In western Manitoba, about 150 supporters gathered in Brandon to march from Brandon University to City Hall, where the Ukrainian flag has been raised in support of Ukraine.
Vartan Davtian, a volunteer with Tryzub, Brandon's Ukrainian-Canadian association that put on the march, can't believe the war is still going on.
"It's not just a full year of war, it's a full year of continuously, every single day, rockets flying all over Ukraine," he said.
He hopes those who attended the rally felt a renewed motivation to help Ukrainians.